Welcome to Farmstand, our weekly online ordering system!
Sign up here to receive reminders when our ordering system opens and to gain access.
The farmstand ordering system is open between Monday and Wednesday every week.
Watch a video on how to signup and do your first order:
Watch a video on how to complete your order and customize its contents:
(let us know if you have a question not answered here):
Questions and Answers for our Farmstand online ordering system:
How can I purchase from you and when is the deadline for orders?
We will be taking pre-orders only, please be sure to get your order in between Monday and end of day Wednesday.
Can I pickup at the farm?
You may choose farm pickup in which case we will have your order pre-packed for pickup in our barn.  We are limiting the number of people at one time and asking that you don't bring cash.  Do not come to the farm to pickup if you are not feeling well or are in quarantine due to travel or close contact with an infected person.
How do I pay for the order?
You can pay by credit card through our ordering system (Harvie), or if you send an e-transfer to chris@commongroundfarm.ca then we can add credit to your account so you can make an order with us.  We are discouraging cash transactions at this time.
How do I get in on delivery?
We will delivery to London and St.Thomas and surrounding areas for $5.  We will be sending out an email Thursdays to let you know the approximate time of your delivery.
What products do you have?
We are offering some organic veggies from Pfennings and products from other local vendors (La Houlette de Vie bread, Harvest Pantry Sauerkraut, Wildflower Honey, etc.)  Veggies not grown by us are certified organic and clearly marked in the store. After signing up with this link, you will get a chance to see all the products available for this week and you can decide then whether to continue with an order or cancel.
Has your availability and prices changed due to the COVID-19 pandemic?
Our prices have not changed due to the COVID-19 situation and our quantities of some things are limited only due to the time of year.  We are continuing with all of our plans for 2020 and have a lot of amazing vegetables planned for this season.
How are you protecting staff and customers?
Our small team and family has been isolating ourselves both at home and at the farm (not much of a change for us of course!).  When packing vegetables for orders we have been wearing gloves and masks and practicing standard food safety protocol.  Our goal is to stay healthy so we can continue to provide you with the most amazing vegetables!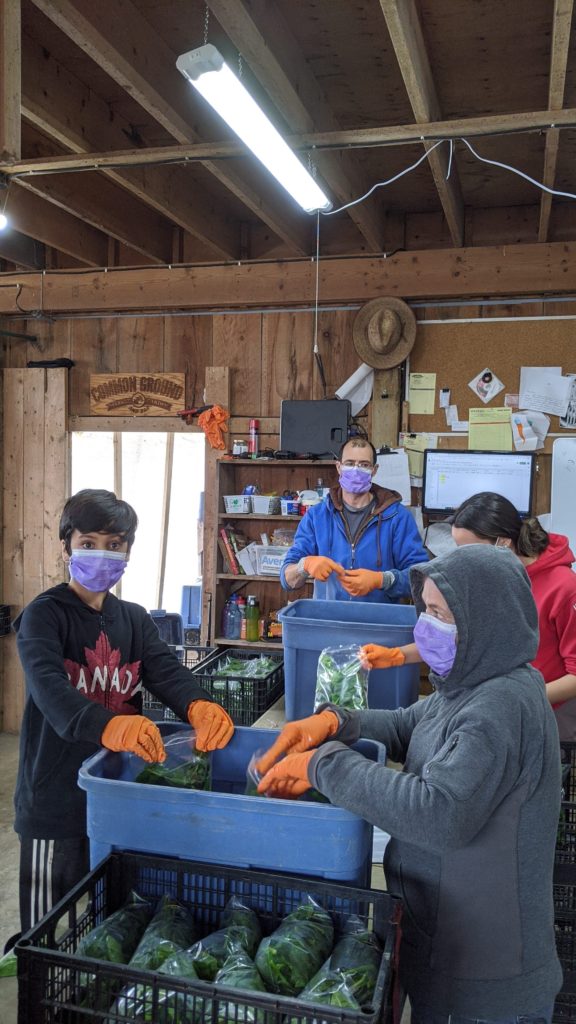 Can you help me with the sign-up process?
You can learn more about how to use the Harvie Farmstand here:


https://harvie.zendesk.com/hc/en-us/articles/360044831694

Note

:  We are using this program for custom orders when it was originally written for a weekly share.  So what you are doing is you are signing up for a box worth $20 (which you use towards your first items) and then you are adding on items to that.  The total you owe will reflect everything you choose both through swaps or extras.  

If you are not sure if your order went through properly and would like to review your order and make sure it is complete (there is really no "submit" button), you can do so here:


https://www.harvie.farm/member/profile




and click on "customize" on the current order side.  If you scroll all the way to the bottom it will show you what you have ordered.  The item selected in the share contents can be shown by clicking "share content" link.  If this item is not $6, the remainder of the credit goes toward extras.  

If you have questions about the order / payment / website, the Harvie support people are great.  They can probably help you faster on these things than I can and you can reach them here:

https://www.harvie.farm/contact.
Chris
Common Ground Farm
​