We are looking for apprentices and an experienced assistant farm manager for 2018! Are you interested?
ASSISTANT FARM MANAGER DESCRIPTION
INTERNSHIP POSITION ON GOODWORKS.CA
We are a mixed vegetable farm just southwest of St. Thomas, Ontario.  We have a year-round CSA and we go to 2 local farmers markets.  As well we raise a few pastured pigs, chickens and we grow hops and sell them to local micro breweries, but vegetable production represents well over 90% of what we do.  We serve a strong and committed community of customers at both our CSA and farm markets where we focus on quality organic vegetable production.  We rely heavily on season extension and we grow vegetables and harvest every month of the year.
Our farm is on 40 acres, including 25 acres of fields, 5 acres of barns and paddock area and 10 acres of forest. We are located about 5 minutes SW of St.Thomas, ON and about 30 minutes drive from London. about 10 minutes drive straight north of Port Stanley on lake Erie.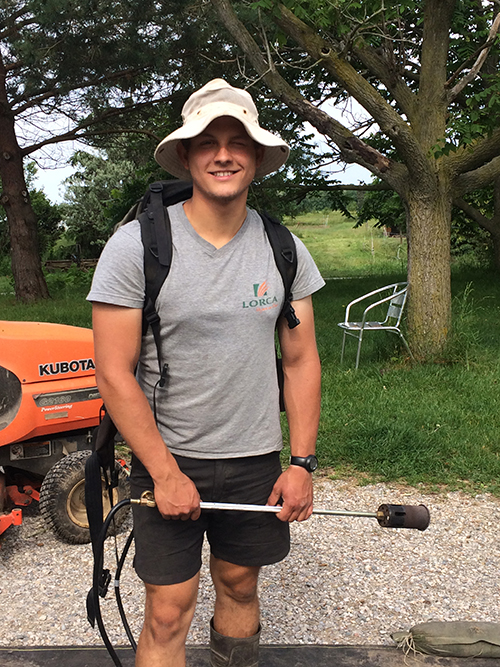 We have 2 experienced full-time farmers on the farm and are looking for 2-3 interns to join us for the season and learn all the ins and outs of market farming in southern Ontario. We do a summer and fall CSA which takes us all the way until December. In 2018 we will be attending a year round market.
Apprenticeship lasts from: April-Dec 2018  but this is negotiable
Does this sound like something you would be interested in?  If so, contact us here.
*first two photos credit: Zeina Bardaji*
In 2016, Morgan Sage was an intern on the farm and she describes her experience pretty eloquently here.
In 2014 Barzin Aryan was an intern on the farm; here is what he had to say about his experience:
When I reflect on my five month on Common Ground farm, I conclude that my experience not only made me a more dedicated and motivated worker but also prepared me in unpredictable ways for life. I still think about my experience almost every day, about the many memorable moments I spent on the farm, planning, planting, harvesting, and rewardingly consuming the fruits of my labour with the best quality seasonal food.
Through the variety of tasks given by the incredibly supportive Chris, I was challenged to learn skills I didn't believe I could ever learn. Those skills have played a central role in my work as a forward thinking and homesteading farmer. Planning the first year of starting an organic farm, including irrigation management, use of alternative means of pest control, and organizing the CSA every week was infinitely rewarding.
The intern loft was very comfortable and spacious with a big couch and separate rooms with comfy beds which makes for a great environment to relax in after a big day outside. The farm itself is beautiful, with both field and forests, and plenty of wild foraging to do in summer; make sure to get those delicious wild raspberries! It also isn't too far from downtown St Thomas and the beaches at Port Stanley. We also took part in one of the CRAFT SW Ontario workshop in which we got to experience different techniques of organic farming. Chris is very knowledgeable on everything there is to know about plants and farming, and he also has an amazing technical know-how in building things from scratch (like the whole intern loft, the chicken coop and an insulated fridge for the market/CSA harvest).
The whole DeVries family is a bundle of joy and pleasure to live with, always easy-going, and always keen on playing board games in the evenings. Even as I am writing this, swamped with work and a less than adequate diet ahead of my masters, I still draw every day on the dispositions I developed during my time at Common Ground farm and wish I could be back to getting my hands dirty and sharing the best, freshest food this earth has to offer. It was a great time in my life, and by far the best educational experience I've had. Now, why am I back at school again?
Thank you Chris, Thank the Amanda and the children, and Thank you Meghan.